Geertje de Haan1
F, #8193, * 23 Nov 1921, + 5 Nov 2008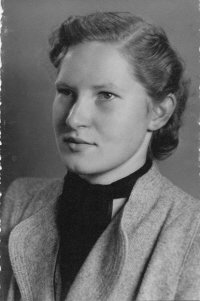 Geertje de Haan
Geertje
de
Haan
was born on 23 Nov 1921 in Schiedam.
1
She married
Ds.
Barend
Gast
, son of
Jan Gerhard
Gast
and
Hendrika Johanna
ten
Bruggencate
, on 12 Jul 1943 at Purmerend.
3,4
She died on 5 Nov 2008 in Berg en Dal.
5,6
She was cremated on 11 Nov 2008 in the Jonkerbos Crematory in Nijmegen.
7
Her death announcements appeared in the Gelderlander on 12 Nov 2008 and mentions her children, grandchildren, and greatgrandchildren.
5,6
Her signature.

     Geertje de Haan and
Ds.
Barend
Gast
moved on 1 Oct 1945 to Jansdam 7bis, Utrecht, (and on 26 Sep 1946 to Tolsteegsingel 26). In 1949 they moved to Zwolle, first Ter Pelkwijkstraat 3, later Prins Hendrikstraat 9. When Barend became army chaplain, they moved to Ede (Anna van Burenlaan 178.)
3
She has lived at Aaldereng 24 in Bennekom, and later at Rooseveltweg 451 in Wageningen and moved on 12 Feb 1999 to the Kwakkenbergweg 150 in Nijmegen a senior living facility.
8,9
Photos:

Geertje as a young girl.10


Geertje en

Diny

Schuurman

in Volendam costume.10