Ulpen de Haan1,2
M, #8533, * 22 Oct 1891, + 25 Oct 1964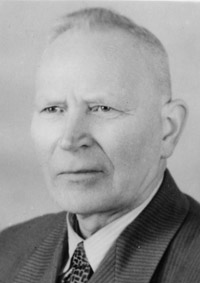 Ulpen de Haan, c. 1962
Ulpen
de
Haan
was born on 22 Oct 1891 in Nieuwe Pekela.
1,2
He married
Afina
de
Haan
, daughter of
Ulpen
de
Haan
and
Geertje
Starke
, on 4 Jul 1918 at Nieuwe Pekela.
1,3
He died on 25 Oct 1964 in Zwolle.
1,4
He was cremated on 29 Oct 1964 in Dieren.
4
An death announcement mentions his wife and children.
5
Other information:
Ulpen de Haan was a civil servant with the tax department
1
6,7
     In Drachten they were living in the Oosterstraat, a new neighborhood, designed by Cees de Boer and Theo van Doesburg.
8,9
Ulpen de Haan received a letter (from Nieuwe Pekela, dated 20 Oct 1918) from his parents-in-law
Ulpen
de
Haan
and
Geertje
Starke
. They congratulate him and his wife
Afina
de
Haan
with his birthday.
Ulpen
tells about his work,
Geertje
about the Spanish Flu, which has claimed a number of friends.
Hendrik
, a nephew, is gravely ill in the hospital in Groningen. She hopes the war will end soon. Sister
Grietje
also adds her congratulations.
6
Photos:

C 1962. Ulpen and

Afina

.


C 1962. Ulpen and

Afina

had a micro car called a Goggomobil (link to blog post)

.

6
     Because of his job with the tax department, Ulpen and
Afina
moved a lot. Their first apartment was above the Restaurant A. Beckers-Hanssen in Nijswiller. In 1920 they moved to Schiedam, where daughter
Geertje
was born. In Feb 1922 they moved to Sneek, en in 1924 to Drachten. On 29 Oct 1934 they went to Purmerend (Julianastraat 25), and on 15 Oct 1943 to Tuinkade 11 in Zaandijk.Then on 28 May 1947 to Groningen (Floresplein 18B) and on 24 Oct 1950 to the Dresselhuijsstraat 3c in Rotterdam. Finally they moved to the assisted living complex "Oldenhaghen" (Hessel Mulertstraat2) in Ommen.
10,6