Ds. Barend Gast1
M, #8192, * 25 Aug 1916, + 13 Apr 1964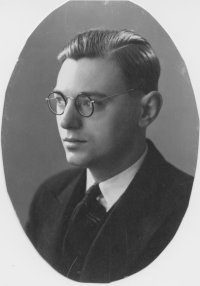 Barend Gast
Ds.
Barend
Gast
was born on 25 Aug 1916 in Tiel (Grootebrugsche Grintweg 21.)
1,2
He officiated at the wedding of
Arnold
Gast
and
Hettie
van
Wijk
on 26 Mar 1942 in the NH in Geldermalsen.
3
He married
Geertje
de
Haan
, daughter of
Ulpen
de
Haan
and
Afina
de
Haan
, on 12 Jul 1943 at Purmerend.
1,4
He died on 13 Apr 1964 in Utrecht (Militair Ziekenhuis "Oog in Al.")
1,5
He was cremated on 18 Apr 1964 in Dieren.
5
His ashes were buried in the Cemetery Ter Navolging at Tiel in the grave of his parents. An death announcement mentions his wife and children.
5
Another obituary in the Algemeen Handelsblad on 15 Apr 1964.
6
Other information:
Ds. Barend Gast attended the public Gymnasium in Tiel. Upon graduation from the alpha division, he went to the Seminary Division of the University of Utrecht. He passed his first exam on 9 Oct 1936, his BA exam on 18 Oct 1938, and his church exam on 30 Sep 1939.
7
     In 1928 the river Waal froze over, may the 12 yr old Barend was among the people in the picture.
Ds. Barend Gast was on 5 Oct 1941 ordained as NH minister in Jisp. Before that he was assistant minister in various parishes from 1937-1942. On 1 Oct 1945 he was honorably discharged with preservation of his pension. Between 1 Oct 1945 and 1 Sep 1949 he was Secretary of the Liberal Christian Youth Organization (VCJC). Between 1949 and 1959 he was minister in the Dutch Reformed Church in Zwolle, after which he became an army chaplain until his death.
7
He served in 1955-1956 one yr as army chaplain in Vught, and bt 4 Oct 1959 - 1964 as minister in service of the Army at the Lua-school in Ede.
7,5,8
Photos:

Barend and his mother

Hendrika

.9


Barend on skates.9
Name variants:
Bup Gast (nickname, within the family.)
9