John Seidler was born on 5 Dec 1907 in Newark, NJ, second son of four of Alexander Seidler and Isabella Riker. He is my son-in-law's grandfather. Alexander was of German descent, his father came to the US around 1850; Isabella had deep New Netherlands (from Ryck Hendricksen, c. 1655) as well as Irish (prob. Scots-Irish, from John Watson, c. 1840)
Alexander was a druggist, and expanded this into the Seidler Chemical Company;  the youngest son took over the business, but in the 1940 census both John and Robert are listed as working for a chemical company, John as salesman, Robert as office manager.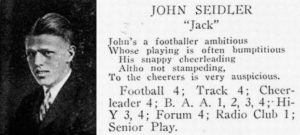 John and his brothers all attended Columbia High School in Maplewood, NJ; John graduated in 1924. Coincidentally, John's granddaughter-in-law would later teach physics at this same high school.
John married Margaret Ross in 1932. The engagement (as well as the wedding) was announced in the New York Times. The couple had two children. But something went wrong, and John married Betty Tiffany in 1943, and had two more children.
In 1966 a disaster: their daughter was killed in a car accident; her mother never quite recovered.
John died of cancer in 1972. His obituary was published in the Record. Interestingly, while he no longer worked for Seidler Chemical, he was still selling chemicals. He did not stray too far from his roots.