George Bruggencate and his five daughters
George Bruggencate (Dutch link) is the son of John, who arrived in this country in 1847 on the Doggersbank. He married Mary Elizabeth Schnell, and his twin Jerome married Almira Schnell; they were  sisters, the daughters of Peter Schnell. Jerome's story is for another day; this is about George and his five rather remarkable daughters.
George and Mary marry in 1876, and then a year or so later, they apparently set out for the west, because the 1880 census finds them farming in Meeker County, MN, with two children Carrie (b. NY 1877), and Abie (b. MN 1879). I find them in the State Census of 1885 (in Meeker County) and 1895 (in Grant County); they now have five daughters: in addition to Carrie and Abie, there is Sarah (b. 1881, MN), Jessie (b. 1883, MN), and Gertrud (b. Nov. 1884, MN, she is enumerated as Janette in 1885).
But by 1898 he is in St. Paul, MN, he is no longer a farmer. He is listed as a smelter (1898 St. Paul directory), and a machinist (1905 census, 1909 St. Paul directory, and 1910 and 1920 census).
Through various death indexes I came upon several of his grandchildren:
Alice Brandon Caldwell, daughter of Carrie and Samuel Lee Caldwell.
Bertram David Evans, son of Gertrud and David Jones Evans
Gertrude A. (Hansen) Bookler, daughter of Jessie and Rudolph E. Hansen
Randolph H. Hansen, son of Jessie and Rudolph E. Hansen
Searching in indexes (FamilySearch) and the newspapers (St. Paul Globe) gave me:
Carrie marries Samuel Caldwell on 11 Sep 1898. They become missionaries and spent many years in Turkey, where their children are born. Carrie is a teacher in 1898 (1898 St. Paul's directory)
Abbie marries W.G. Schmitz on 27 Jun 1904 in Rathdrum, Kootenay County, Idaho. He was of Spokane, WA. Before 1940 she marries Ira Bowen, her father is listed with them in the 1940 census in Ontario, San Bernardino County, CA. I have not found them in any other census.
Sadie married William Strid on 10 Jun 1903. There were several mentions in the newspaper, but the marriage does not last long; in the 1905 State census her husband is not listed with her (she and a one-year old son are living with George and his wife), and she apparently dies in 1907.
Jessie marries Rudolph Hansen in Nov 1903. One mention in the newspaper, and they are in every federal census through 1940. She dies in 1963 in Ramsey County, MN
Gertrude apparently marries David Jones Evans, but I cannot find a marriage. Their son Bertram was born in Spokane, WA in 1909. I cannot find them in any census.  A David Evans is best man at the wedding of Sadie and William Strid in 1903, so the relation makes some sense. And they could have gone to her sister Abie, considering that Abie's husband was from Spokane. But when did they marry, and when did the move to Spokane?
There are some other tidbits about George in the papers: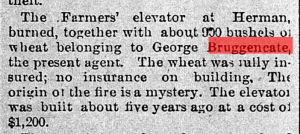 The New Ulm review (Brown County, MN), August 17, 1892, that he lost his wheat in a fire (it was however insured).  There are also mentions about a trial involving the railroads that transport the grain, which I have to explore more (St. Paul Globe, 18 Mar 1892, pg. 8, col. 1)
While this is a rather remote branch of the family (our common ancestor is George's grandfather, making him my 1st cousin 3x removed), the availability of online American records makes for a puzzle that can be solved. I am sure that as more things show up online, the remaining pieces will fall into place. In the meantime, if you have any information, I'd love to hear from you.