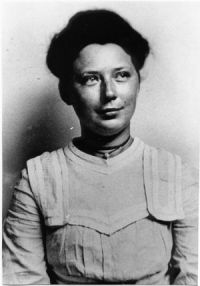 I never knew my paternal grandmother Hendrika Johanna, Dieks for short (dutch link), she died several years before I was born. Although her husband knew me, I have no memories of him either. So all I have is her pictures, and a few scraps from writings from my grandfather.
They must have had a very good marriage. In the letter to my father on occasion of his marriage, grandfather writes:  "if you give your wife the love of which Mother was an example, then I hope you will be as happy as Mother and I were for 28 years."
In her pictures she looks so gentle, so friendly, so happy. I wonder what she would have been like, if she hadn't died so young! I wonder what I could have learned from her. And I wonder if my parents' marriage would have been different, if she had still been there to give a good example.