Trude Koch1
F, #9116, * 22 May 1911, + 12 Mar 1998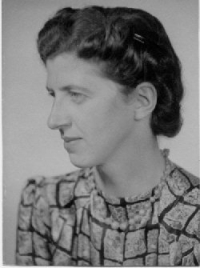 Trude Koch, c. 1939
Trude
Koch
was born on 22 May 1911 in Landstuhl, Germany.
2,3,4
She married
Frits
Broekman
, son of
Marinus Johannes
Broekman
and
Rosalia
Voss
, on 18 Mar 1939 at Amsterdam.
3,4
She died on 12 Mar 1998 in Wageningen.
5,4,6
She was cremated in the "Rijk van Nijmegen" Crematory in Beuningen.
5
An death notice in the Het Gelders dagblad on 18 Mar 1998 mentions her husband, children and grandchildren.
5,6
Other information:
Her signature on the menu of the wedding dinner.

She worked c 1932 in the store owned bij
Hermann
and Anna Voss at Jülich.
1
Trude Koch and
Frits
Broekman
moved on 5 Jun 1939 to Hilversum from Amsterdam. On May 20, 1943 they moved back to Amsterdam, and on 10 Feb 1944 back again to Hilversum. The address is then Pr. Julianalaan 8.
7
Frits
and Trude survived the 2nd World War, thanks to the help of Hans Georg Calmeijer, a German lawyer, who, in the Netherlands, had to make the decisions about who was jewish and who was not. More information about Hans Georg Calmeijer from
Yad-vashem (in English)
,
Wikipedia (in German)
, and
the town of Osnabruck (in German)
.
Trude Koch received a letter (from Buenos Aires, dated bt 1940 - 1941) from from
Cäcilia
Mayer
.
click here
.
8
Photos:
Trude (middle) and friends c. 1930.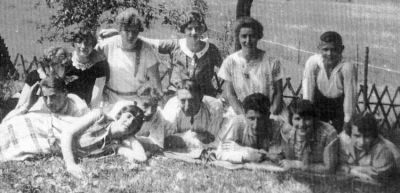 Name variants:
Gertrud Auguste Koch (full name.)
2,3,4