Frits Broekman1
M, #9115, * 25 Nov 1909, + 6 Oct 2002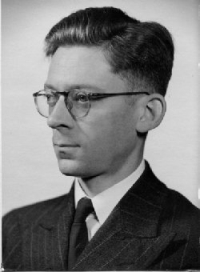 Frits Broekman, c. 1939
Family

Trude

Koch

* 22 May 1911, + 12 Mar 1998
Children
Frits
Broekman
was born on 25 Nov 1909 in Pare, Java.
2,3
He married
Trude
Koch
, daughter of
Ludolf
Koch
and
Cäcilia
Mayer
, on 18 Mar 1939 at Amsterdam.
3,4
He died on 6 Oct 2002 in the hospital Geldersche Vallei in Ede.
5,6
He was cremated on 10 Oct 2002 in the "Rijk van Nijmegen" Crematory in Beuningen.
6,5
An death notices in the NRC-Handelsblad on 10 Oct 2002 mentions his children and grandchildren.
5,6
Other information:
His signature on the menu of the wedding dinner.

Frits Broekman attended first the Jacob Obrecht Elementary School in Amsterdam
7
Afterwards he attended the 2nd HBS, B division
7
He studied chemistry at the University of Amsterdam, and earned an MS in organic chemistry. In 1956 he earned a PhD in Amsterdam with Prof. Wibaut on the thesis "De reactie van 4-chloorpyridine met zichzelf en met enige aminen."
7
Frits Broekman was in 1939 an organic chemist with Polak & Schwartz in Hilversum
1
He worked with the Physical and Colloid Chemistry Group of the Agricultural University.
8
Frits Broekman and
Trude
Koch
moved on 5 Jun 1939 to Hilversum from Amsterdam. On May 20, 1943 they moved back to Amsterdam, and on 10 Feb 1944 back again to Hilversum. The address is then Pr. Julianalaan 8.
9
Frits and
Trude
survived the 2nd World War, thanks to the help of Hans Georg Calmeijer, a German lawyer, who, in the Netherlands, had to make the decisions about who was jewish and who was not. More information about Hans Georg Calmeijer from
Yad-vashem (in English)
,
Wikipedia (in German)
, and
the town of Osnabruck (in German)
.
Photos:
C 1911.
Juup
and Frits as children in Indonesia.
10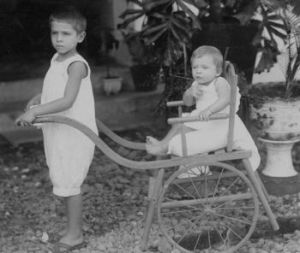 Name variants:
Friedrich Wilhelm Broekman (full name, at birth.)
11,3
On 1 Nov 1945 his name was legally changed to Frederik Willem Broekman.
11