Maria Christina Neuwirth (1774-1842)
Maria Christina Neuwirth/Nieuwerth (dutch link) was born in 1774 in Almelo, and died there on 12 Apr 1842. She was the third and youngest child of Johan Georg Neuwirth and Margarith Sophia Elizabeth Beijer. She is my third great-grandmother.
Her parents had come from Germany, her father from Sommerhausen in Bavaria, her mother from the Earldom of Limpurg.(1) This was part of the Holy Roman Empire, but by 1713 all male lines were extinct; by 1780 most was in the hands of the Dutchy of Wurthemburg. However, there was also a relation to the House of Rechteren.(2) Both were working at the House of Almelo when they married.
Maria Christina married Hendricus ten Bruggencate in Aug 1801, and they have 7 children in 13 years. Hendricus was a bread baker; after his death in 1817, Maria Christina must have continued the business, as she is also a baker. The eldest son Gerrit later takes over the business.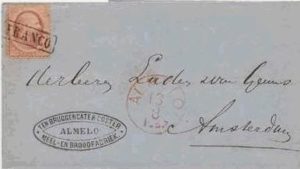 It is unclear whether they had a retail bakery or something bigger; I have an envelope stamped with "ten Bruggencate and Coster, Flour and Bread Factory" from 8 Aug 1867. Also unclear is who is the Coster; it is a very well known name in Almelo and environs.
Their son Johan (see ten Bruggencate in the US) went to America, and while I have found much information on him, I am fairly sure, that his family in Almelo never heard from him again after his departure. Son Carel went to Amsterdam, and had a daughter there. The two daughters Elizabeth and Geertruid never married; Elizabeth died in Almelo, and Geertruid in Amsterdam.
All three sons name their first daughter after their mother; she was still alive when they were born, and must have doted on these children. But there was heartbreak too: Gerrit's first two daughters (both named Maria Christina) died as infants, and the next Maria Christina (my great-grandmother) was born after she had died. Of Gerrit's 12 children, only four reach adulthood, Carel had three children, but only the eldest survives, Johan had four children in the Netherlands, and only the eldest survived. (He had four more in America, three of which had progeny.)
(1) In the marriage registration they are both listed as coming from the Earldom of Limpurg. Considering the history of the Earldom, it is certainly possible that Sommerhausen also was part of it.
(2) Wikipedia Graafschap Limpurg (dutch only)