Eliza Sarah ten Bruggenkate (1831-)
Eliza Sarah was baptized on 13 Apr 1831 in St. Mark's Church in London, daughter of Gerardus Albertus ten Bruggenkate (dutch link) and Eliza.(1) The parents were living at South Island Place, and the father's occupation is listed as 'ornamental artist'.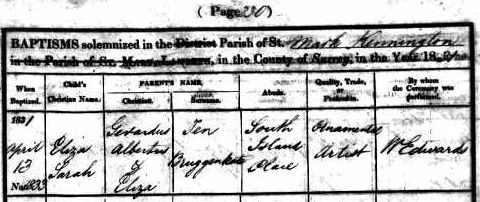 Gerardus and Eliza have another daughter baptized in 1835 at St.Mary's,(2) they are then living in Gloucester Street, and his occupation seems to be paper stainer. He also was a merchant, and ran a counting house.
Gerardus and Eliza are a bit of a mystery. Gerardus was born in Amsterdam, and came to London before 1814, when he was admitted with papers to the Dutch Church in London. He married first Sarah Hitchcock in 1819, and second Eliza Gardner Simmonds in 1844. But Eliza Sarah and Emma are born in 1831 and  1835. So who is the mother? Was there a third marriage? Was Sarah Hitchcock maybe Sarah Eliza or Eliza Sarah? Many questions remain.
And if you want to know more about Friday the 13th, see Wikipedia.
(1) Metropolitan Archives, Compiler (London). Birth/Baptism Registers, St. Mark, Kennington, pg. 230. Ancestry.com, online: http://www.ancestry.com. (also on FamilySearch)
(2) Metropolitan Archives, Compiler (London). Birth/Baptism Registers, P85/MRY1, Item 359, pg. 165. Ancestry.com, online: http://www.ancestry.com. (also on FamilySearch)