Rosalia Voss (dutch link) was born 10 Mar 1873 in Boslar, Kreis Julich, Germany, daughter of Joseph Voss and Bertha Lichtenstein. She is my husband's grandmother, and seems to have been a rather remarkable woman.
It is unclear how she met her husband Mar Broekman, there seems to be no visible connection between the Lutheran boy from Amsterdam and the Jewish girl from Boslar. Did he meet her on vacation, or was she in service in Amsterdam? Whatever happened, happened; they married 5 May 1904, and 3 month later their son Juup was born in Julich. They lived in Jülich (at Römerstr. 31a), until they could be shipped off to the Dutch East Indies, where Mar was the manager of a sugar plantation, and where he died in 1917. Before his death they regularly came to the Netherlands and Germany, and they kept regular contact through postcards and (presumably) letters, which I do not have, unfortunately.
In 1912 son Juup is registered in the civil register of Amsterdam in the family of his grandfather Marinus Johannes. Rosalia had come with the two boys on the ship 'Koning Willem I' to the Netherlands. On 25 Jan 1913 she, son Frits, and her husband (he had come on the 'Grotius' on 5 Sep 1912) go back to Java on the 'Rindjani.'  Following the death of Mar in 1917, Rosalia and Frits can only in 1919 return to Holland, because of the war [1st World War]. Because Rosalia was of German descent, in Gibraltar they had to swear an oath that they were not German sympathisers. They are registered on 6 Mei 1919 in the civil register of Amsterdam, and a week later Juup is again registered with his mother.
The next ten years seem quiet. But when Germany starts making threatening noises against the Jews, Rosalia's house seems to harbor a lot of relatives for various lengths of time. In 1931 her niece Alice Mayer stayed with her for a month, before living another month at Koninginneweg 47-huis (ws. a kind of hotel), and then returning to Schifferstadt, where her family lived. Another niece Hanna Cohen, came to stay for a year (8 Apr 1939-10 Apr 1940), before going to Emmen.  She married Erich Roseboom, and the family was killed in Auschwitz in 1943. Her future daughter-in-law Gertrude Koch came to live with her on 21 May 1935, coming from Julich. She moved on 9 Dec 1936 to Zuider Amstellaan 193-II (which was changed to Rooseveltlaan in 1945, I can't find Trude on those cards), and moved back to Rosalia's house on 14 Jan 1937, This is still before her marriage to Frits, so I am not sure why the moves. Several other people live with Rosalia at various times, but I have not been able to determine, whether they were just boarders, or whether there was a relationship. It seems likely she took in boarders to supplement her income.  In 1938 she is listed as the contact at home in the passenger list to New York for Eliza Metzger-Mayer, and her daughter and grandchild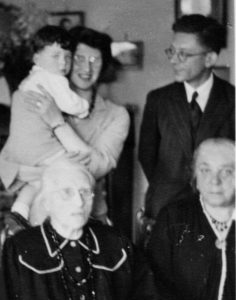 Juup supposedly never forgave his mother for the circumstances of his birth, but I wonder whether the fact that he was dumped with his grandfather at age 8 also had something to do with that. We will never know, Juup had no children, he was successful in his career with Shell, but committed suicide in Vancouver in his old age after his wife died.
Rosalia to me seems a tower of strength, with few choices in her life. She had no choice to go to Java; no choice to stay there, when WWI broke out; no choice to leave her son with relatives for his education. But when she came back, she seems to have provided an opportunity for several of her family members to escape from Germany, at least temporarily.
(1) see also Travels and Broekman in Indonesia