Margaretha E. Meyer (1742-1795)
Both Margaretha and her husband Gerhard H. Brockman (my husband's 5th great-grandparents) were born in Melle, Germany on 11 Jan, she in 1742, he in 1729. They were both baptized on their birthday in the Evangelische Lutheran Church in Melle.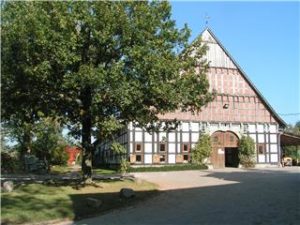 Margaretha's father was the steward at the farm in Bakum. Their surname literally means steward at Bakum. The family had lived on the farm for generations.
Cord was the first known Meyer of the farm in Bakum. Since that time members of the family have continually resided on the farm, although not always through the male line. In 2007 a direct descendant (Rudolph Joost) still has a organic chicken farm there. The Meyers were in order: Johann, Peter Meyer zum Wendischhof (through his wife Grethe), Johann, Rudolf Cappel and Franz Meyer zu Ribbentrop (through their wife Anna Maria), Peter, Balts Hinrich, Franz Henrich, Johann Casper, Mathias Rudolf Bolte (through his wife Clara, who was first married to Johann Caspar), Carl Justus, Rudolf August, Erich, Annegret, and Rudolph Joost.(1)
Gerhard and Margaretha had 8 children, of whom the last two died young. Their eldest son moved to Amsterdam, where he married and had many descendants.
Gerhard and Margaretha were present at that marriage, as well at the baptism of their first granddaughter Johanna. Were they planning to move to Amsterdam also, or were they just visiting for the wedding? It is (now) a trip of about 170 miles, quite a trip in those days. Whatever their plans were, they went back to Melle, where she died in 1795, and he in 1798.
I am grateful to Rien for giving me all this information, and the wonderful pictures of the farm. I would never have found them on my own.
(1) Corr. Rien Meyer, a descendant of Anna Maria Meyer zu Bakum and her second husband.