Henrietta A.C. Broekman (1858-1928)
Henrietta Alida Catharina Broekman (dutch link) was born 9 Jan 1858 in Amsterdam, the daughter of Jan Barthold Broekman and his second wife, Jansje van Sitteren. She is a great-grandaunt of my husband, who descends from Jan Bartold and his first wife. Henrietta had six half-siblings and seven siblings (but not all survived childhood). Her father was a baker, more specifically a ryebread baker (see The Bakery in the Gasthuismolensteeg for a story of what is probably the same bakery.)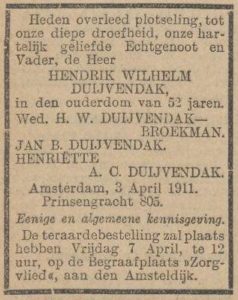 Henrietta married Hendrik Willem Duijvendak in 1889; her sister Bertha had married his older brother in 1881. Henrietta and Hendrik lost their first-born child Willem at age 3 in 1893; but their next two children, a son and a daughter both survive to marry. Hendrik was an insurance salesman; he died suddenly in 1911 in Amsterdam.
Henriette died in 1928 in Breda at age 70; she was living with her daughter and her husband Johann H.H. van Beem, a Dutch Reformed minister, and two grandchildren.
I hope she had a happy life, in spite of the early death of her husband, and the loss of their first child; she did get to know her grandchildren, and apparently got along well enough with her daughter to live with them.