Joseph Edelman1,2
M, #11952, * 14 Jul 1916, + 8 Feb 1991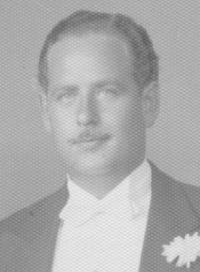 Joseph Edelman
Joseph
Edelman
was born on 14 Jul 1916 in Manhattan, New York.
2
He married
Doris Yvette
Richstein
, daughter of
Isador
Richstein
and
Bessie
Levison
, on 22 Jun 1935 at Casa del Rey at Brooklyn.
3
(Divorced in 1947.)
4,5
He (2) married
Jill
Galione
in 1947 at Dade County, Florida.
6,7
He (3) married Joyce Pettyjohn.
2
He died on 8 Feb 1991 in Tucson, Arizona, (Tucson Medical Center.)
2
He was cremated on 13 Feb 1991 in the Palms Crematory in Tucson.
2
Other information:
His signature on his marriage certificate.

He lived at the time of his first marriage at 2445 W 21 Street at Brooklyn, New York.
3
Joseph Edelman was a confectionary worker (acc. to his marriage cert.) and a hypnotist (acc. to his death certificate)
3,2
Joseph and his wife
Jill
ran bt 1960 - 1970 the Fair Lawn Stamp and Coin Co. at 6-11 Fair Lawn Ave, Fair Lawn, New Jersey. From 1966 the store was located at 28-05 Broadway.
6
He and
Jill
Galione
lived bt 1960 - 1970 at 15-06 Chandler Drive in Fair Lawn. They lived in the same house as Joseph G. and Gertrude Edelman, who were the owners of the house. From 1966 they lived in Clifton. Joseph is then no longer listed.
6
He is listed in the following census:
1930 Fed. census
(1 Apr): Household of
Rose
Edelman
, 3028 Warehouse Avenue, Brooklyn, Kings County, New York.
8
1925 New York census
: Household of
Samuel
Widoff
, 2120 Surf Ave, Brooklyn.
9
Name variants:
Joseph Rubin Edelman (full name.)
3