Paul ten Bruggencate1
M, #4381, ° feb 1901, +. jan 1961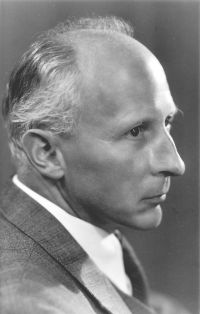 Paul ten Bruggencate (1901-1961). Astronoom. Origineel in het bezit van Mevr. E. E. Back-ten Bruggencate
Paul
ten
Bruggencate
was geboren op 24 feb 1901 in Arosa.
1
Hij trouwde met
Dr. Phil.
Margaretha
Sachs
op 31 maart 1933 te Hamburg.
1
Hij overleed op 14 jan 1961 in Göttingen.
1
     Er zijn tenminste zes overlijdens berichten en In Memoriams in wetenschappelijke tijdschriften, vnl. in het Duits. Voor meer informatie, zie ook Wikipedia at http://en.wikipedia.org/wiki/Paul_ten_Bruggencate
Observer : 81 (1961), 260, ZfA 53,4 (1961) I, MittAG 1961 (1962) 21 (by F. W. Jaeger, can be retrieved from
), Naturwissenschaften 49 (1962) 73 (by H. Kienle), Sonderdruck Jahrbuch Akad. Wiss. Göttingen 1961 (1962) 1 (by A. Unsoeld), Sterne 38 (1962) 200 (by A. Behr.)2
Meer informatie:
Paul ten Bruggencate behaalde een Dr. Phil. in de natuurwetenschappen.
1
Paul ten Bruggencate was ts 1929 - 1960 astronoom bij de sterrenwacht van de Universiteit in Göttingen
1
Hij begon zijn carriere met de Bosscha Sterrenwacht in Lembang, Java, en bracht een paar jaar door in de VS, zowel op de Mt Wilson Observatory in California als op het Harvard College Observatory in Cambridge, MA. Hij was uiteindelijk hoofdobservator bij het Astrophysikalische Observatorium (Einstein-Turm) in Potsdam, Brandenburg.
1,3
Paul reisde op 2 jan 1929 op de 'SS 'Wilhelmina'' naar San Francisco, California, kwam verscheidene keren naar de VS:
Hij kwam op 2 jan 1929 aan in San Francisco, van Honolulu, op de SS 'Wilhelmina'. Zijn laatste woonplaats was Lembang, Java. Zijn contact in Nederland was
Gerrit
ten
Bruggencate
]. Hij verbleef voor 6 maanden in het Hotel Whitcomb in San Francisco. Zijn uiteindelijke bestemming was Gottingen.
4
Het volgende jaar kwam hij van Hamburg, op de SS 'Cleveland', op 24 maart 1930 in New York City. Zijn laatste woonplaats was Greifswald, Germany. Zijn contact was zijn broer
Herman
ten
Bruggencate
in Ludenscheid, Duitsland. Zijn uiteindelijke bestemming was Cambridge, MA. Zijn VS contact is het Observatorium van Harvard.
5
     Er is correspondentie bewaard in The Huntington Library of the Observatories of the Carnegie Institution of Washington Collection, San Marino, California
6.
Naam varianten:
Dr. Phil. Paul Willem ten Bruggencate (volledige naam.)
1